About Bol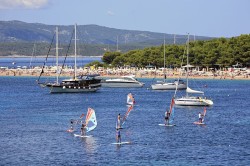 Bol is the oldest coastal settlement on Brač. It exists in the solitude of the southern landscape, at the foot of the Bol crown and Vidova Mountain – the highest island peak and at the same time the highest point of all Adriatic islands (778 m). It stretches few kilometers along the coast.
The sea in front of it is crystal clear, transparent waves resemble a cut crystal.
It "grows" with the depositing and sedimentation of small gravelly pebbles around the underwater reef. The point of the Zlatni rat (Golden horn) changes shape, attempting to conform to the will of the waves and gentle sea currents.
Dominican monastery, rising in the holy peace is located on the east side of Bol, at the peninsula Glavica. Its museum has a rich archeological collection and diverse valuable objects and paintings.The urban core of Bol is shaped along the port. There are baroque summer residence, Loza with a little church, renaissancee-baroque palace with an art gallery inside it, parish church, little market and Kastil. Stylish buildings modestly fit the harmonious houses made in the original national architectural style…
The west side of the settlement has been built more recently. The mainhotels in Bol are located in the area towards Zlatni rat.
Bol is a locality of exceptional maritime benefits. Its coast with numerous corners of peace and pleasures gives a feeling of a large free space, is created for meditation and relaxation but also for active holidays.
The scent of medicinal sage and rosemary under the sunny slopes,and chirring of crickets is the deepest primeval music.