Direction West
Newly built road in a westerly direction, enhance the connection with the settlement Murvica, located 3.5 km west of the Zlatni rat and 6 km from the village center. After Murvice continues gravel road to the bay Faroe located approx. 5 km from Murvice. The road is in very good condition. The trail descends and raises what makes them attractive parts of the track for the sport. The trail goes through a pine forest, near the vineyards and olive groves. From the path, there is a wonderful view of the hidden coves and beaches which can also be accessed.
Murvica
The village is rich in history, famous for its hermitage of the Glagolitic. From the village you can enjoy magnificent view of the sea, the beach Zlatni Rat and the island of Hvar. The village has retained much of its original architecture. Most of the house is located at 100 meters above sea level, at the foot of the karstic caves on the southern slopes of Vidova hill, while few new buildings are closer to the sea. Many houses were abandoned and the collapsed over time. Vegetation is typically Mediterranean, mottled numerous cypresses and agaves. Murvica has beautiful sandy beaches, which in season attracts guests looking for a more intimate atmosphere of the crowded beaches of Bol.
On the west side of town is the Dračeva bay. On the hill above we find the remains of the monastery.
Hermitage Blaca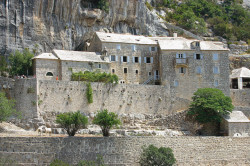 Hermitage Blaca can be reached from the south from the direction of the sea, or from the north from the direction of Nerezisce.
The Hermitage has a great heritage value. It started as a stone cave fenced with stone walls. Hermits through time upgraded single storey house of different purposes (kitchens, basements, furnace, etc.). In an era of prosperity were built luxurious multi-storey buildings. 1588th was built in the Renaissance church, extended into the next century. The church has paintings from the Venetian school 17th century.

Direction East
To the east, we also have a path for biking and walking, which has recently been expanded and extended to the bay Zaograda. The total length of the trail is approx. 4 km. This trail does not lead to the settlements but offers a fantastic view of the sea.